First recipient of Scholarship for Women from Developing Nations in Biosciences returns to Uganda with tools for success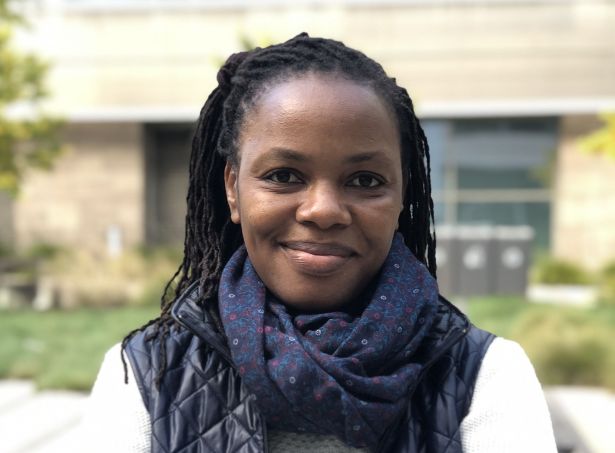 Jacqueline Kyosiimire-Lugemwa, PhD, was the first recipient of QBI's Scholarship for Women from Developing Nations in Biosciences.
When Jacqueline Kyosiimire-Lugemwa, PhD, arrived at UC San Francisco in January 2018, she was excited to finally have the tools and the team to analyze reams of data on people infected with HIV, which she had painstakingly collected for years in her home country of Uganda.
But science doesn't move in a straight line, and one of Kyosiimire-Lugemwa's first discoveries turned out to be an intractable problem with her data. It was a major setback for a scientist who had just arrived in a new country, but it turned out to be an opportunity in disguise.
As the first recipient of the Scholarship for Women from Developing Nations in Biosciences, which is offered by UCSF's Quantitative Biosciences Institute (QBI), Kyosiimire-Lugemwa expected to spend a year at UCSF exploring HIV under the guidance of UCSF's leading experts in infectious diseases.
Using data she had collected with a technique called flow cytometry, she hoped to find clues about why some patients with HIV don't develop life-threatening AIDS as quickly as others. But when she reviewed these data with her new UCSF colleagues, it became clear that there had been a problem with the flow cytometry machine when the data was first collected, rendering her hard work moot.
Thanks to the understanding and support of her UCSF science community, however, Kyosiimire-Lugemwa was soon off to a fresh start with a new, and improved, direction for her research.
"It hit me really hard," Kyosiimire-Lugemwa said, "but UCSF provided me with the right environment to gain new skills, learn from my mistakes, and grow."
Transcending borders
The Scholarship for Women from Developing Nations in Biosciences is one of QBI's programs designed to foster new connections in the quantitative biomedical sciences. QBI, which was founded in 2016 by Nevan Krogan, PhD, is an Organized Research Unit at UCSF that reports through the School of Pharmacy. Krogan serves as QBI director.
The scholarship, referred to as a fellowship, was the brainchild of Krogan and QBI's chief operating officer, Jacqueline Fabius, who leveraged her years of experience working with the United Nations to build relationships with scientific institutions abroad.
Kyosiimire-Lugemwa is studying why some people resist the progression of HIV into AIDS for many decades.
"Nevan and I wanted to impact the lives of women in science and open the door for interesting collaborations for QBI and UCSF," said Fabius. "In many developing countries, there are few opportunities for women to excel in research and even fewer for them to advance as leaders of major science programs. By empowering a woman scientist, we hope to enable her to climb the difficult career ladder that, in developing nations, is often found in male-dominated sectors."
Kyosiimire-Lugemwa fit the bill: She worked on HIV research at the prestigious Uganda Virus Research Institute, where the Zika virus was first identified, and she was seeking a boost to her career after a few years as a postdoctoral scholar.
The fellowship was Kyosiimire-Lugemwa's first experience in the United States, but Fabius, Krogan, and members of the Krogan Lab all made sure she had the support to make the most of her stay. With the encouragement of her new colleagues, she quickly found herself attending seminars and shadowing fellow researchers across UCSF.
'I'm so excited this has happened!'
Kyosiimire-Lugemwa's first hint of a problem with her data emerged a few months into her fellowship, when she presented some of her data to members of the Krogan Lab, as well as members of the lab of Peter Hunt, PhD, a faculty member in the Department of Experimental Medicine (DEM). She hoped that her data could reveal how some people with HIV managed to avoid AIDS for decades, while others quickly came to depend on daily medications for survival.
But when she looked more carefully at the data together with colleagues from the DEM, the UCSF Center for AIDS Research, and the UCSF Core Immunology Lab, it became clear that a problem had occurred at the time of data collection. The data, representing the types of proteins present on white blood cells in different HIV-positive patients, were unusable.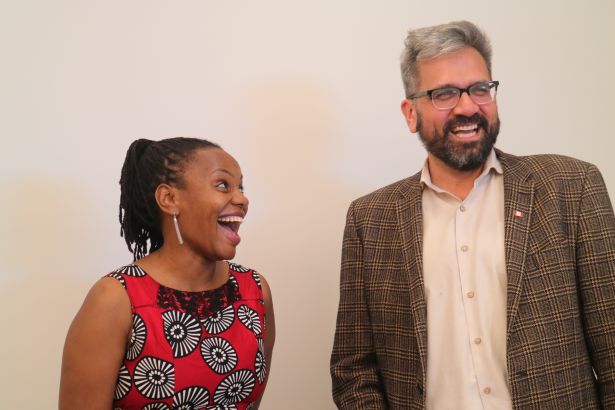 Kyosiimire-Lugemwa, left, with her mentor, QBI Director Nevan Krogan, PhD.
Kyosiimire-Lugemwa wasn't sure what to do. She had planned at least part of her fellowship on the premise that these data could be published. This was now no longer possible, and she had to break the news to Krogan and his lab. But Krogan's response floored her.
"I'm so excited this has happened!" she remembers him exclaiming, to her initial confusion.
"I learned from Nevan that this failure meant I could start [my research] all over without any preconceptions," she said. "He and Jacqueline were very positive. They encouraged me, telling me that this happens to a lot of scientists and that I shouldn't worry. They told me they would still support me in all I wanted to do."
A renewed sense of purpose
Kyosiimire-Lugemwa spent the remaining months of her fellowship soaking up the expertise of numerous scientists across UCSF, with the goal of repeating her earlier experiments on HIV using better methods.
To avoid future problems with her flow cytometry experiments, she attended group training sessions and personal specialized training at the Core Immunology Lab. She also picked up new techniques, like protein purification and mass spectrometry, which could provide even more detail about the proteins present on each HIV-infected cell, as well as gene editing with CRISPR-Cas9, which could enable her to test predictions about HIV progression in cells in petri dishes.
Kyosiimire-Lugemwa returned to Uganda in December, ready to resume her research on HIV and also pass along to younger scientists some of the wisdom she picked up at UCSF.
"This fellowship really helped me overcome my fears as a young scientist, and showed me that scientists around the world have more in common than they might think," she said. "Whether you're in Uganda or in the U.S., it takes commitment and passion to succeed in science, something that my interactions with UCSF scientists really helped me appreciate."
Fabius and Krogan are now expanding the fellowship to support two women scientists each year, and they are confident that the relationship they've nurtured with Kyosiimire-Lugemwa will continue to fuel groundbreaking HIV research in the coming years.
"It will be very exciting to follow Jackie's trajectory," said Krogan. "We are thrilled that we will be working with her in the future."