By Andrew Schwartz | Photography by Elisabeth Fall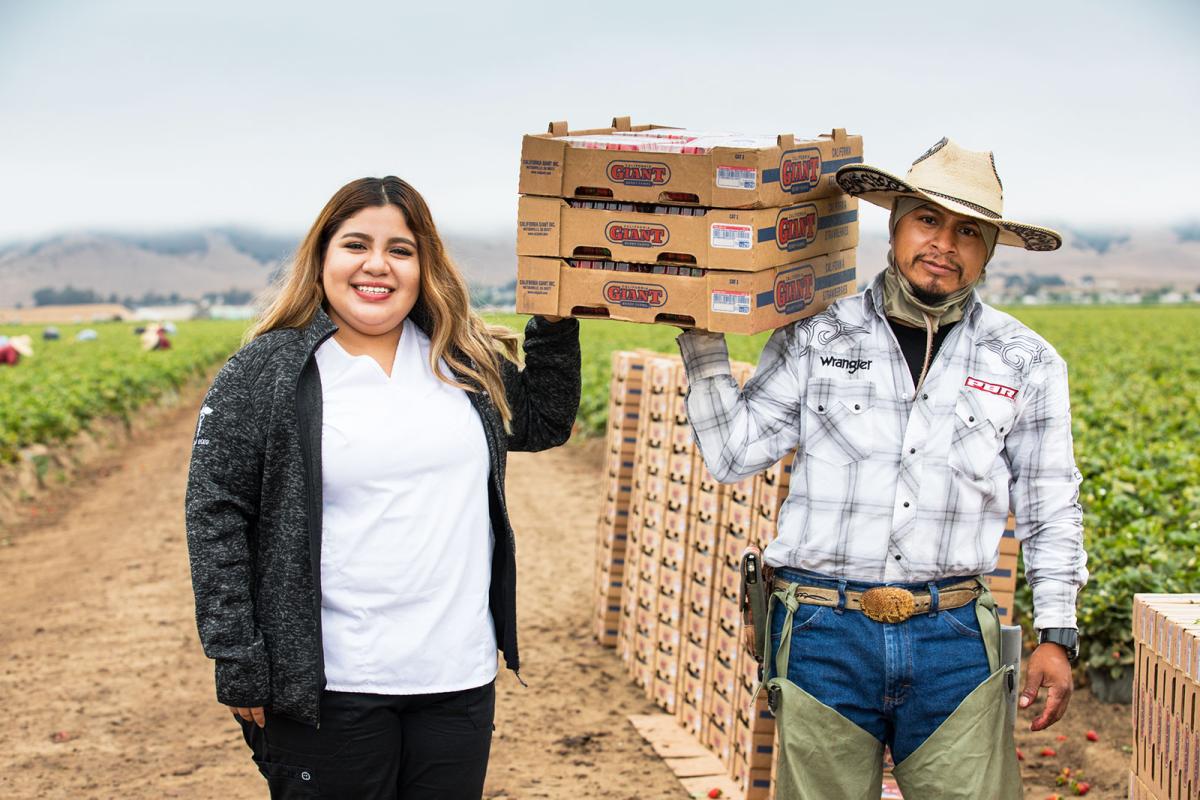 Nancy Oros Tinoco, left, stands with her uncle, Adolfo Gomez, in a Salinas farm field. Oros Tinoco, who was raised in a family of farmworkers and spent her teen summers working in the fields, is a scholar in the FirstGenRN-REAP program.
The UCSF School of Nursing is partnering with Hartnell College to prepare first-generation-to-college students to become nurses, equipped with the skills to advance health care for residents in the underserved Salinas Valley.
The new effort builds on UCSF's FirstGenRN program — the first of its kind in the country — that identifies applicants and students who are the first in their family to go to college, and provides them with mentoring and other support to help them succeed.
At Hartnell College, a public community college in Salinas, the majority of students are the first in their families to attend college and the student population is over 60 percent Hispanic.
The UCSF-Hartnell partnership aims to nurture first-generation-to-college nursing students whose unique experiences, combined with the training they receive, will enable them to provide quality patient care in the community from which they hail. In particular, students are being trained to deliver elder care to the county's growing population of older adults.
"The impact that these future nurses will have on the aging agricultural community in the Salinas Valley is significant, especially since we know the average life expectancy of a farm worker in the U.S. is 49 years old," said Laura M. Wagner, PhD, RN, FAAN, who founded the FirstGenRN program in 2017 and is leading the partnership with Hartnell College.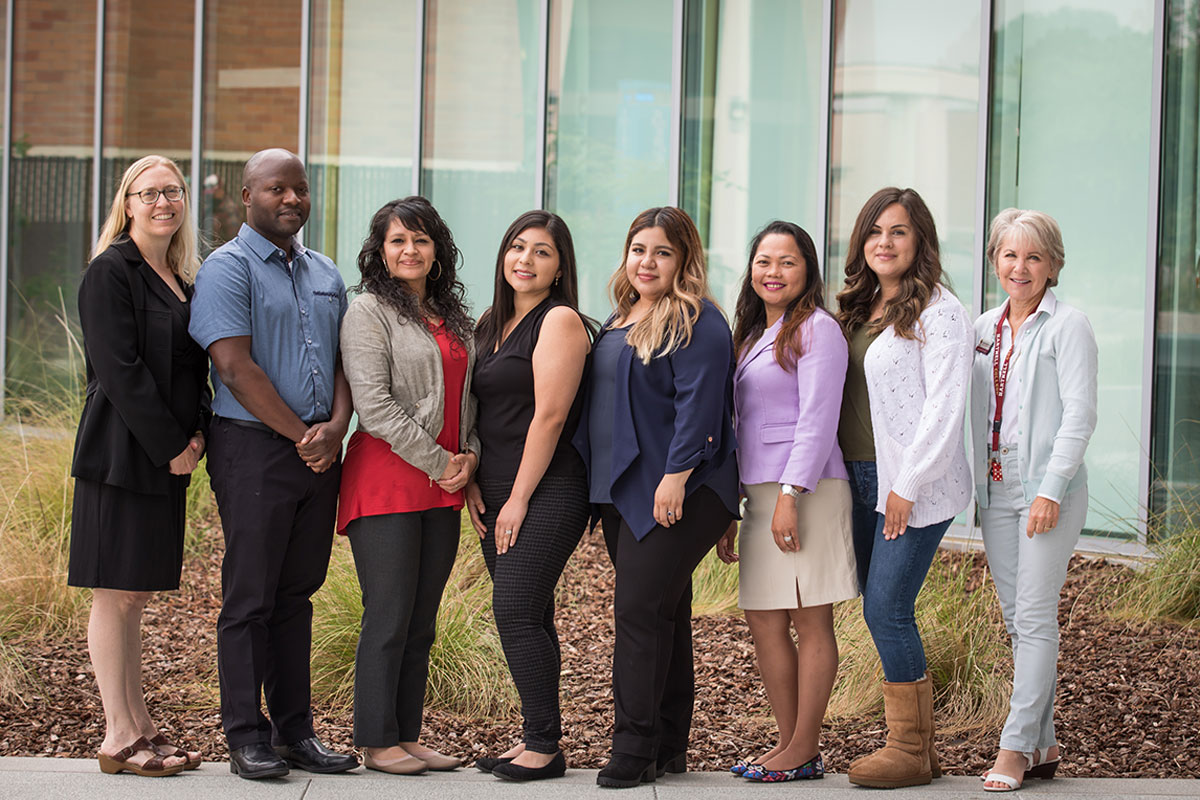 Pictured from left to right: UCSF professor Laura M. Wagner; FirstGenRN-REAP scholars David Sejjombwe, Leticia Ramirez, Cynthia Contreras-Tinajero, Nancy Oros Tinoco, Aida Borchard and Sandra Cervantes; and Debra Kaczmar, dean of Academic Affairs for Nursing and Health Sciences at Hartnell College. (Elisabeth Fall Photography)
Providing Quality Elder Care in Rural Areas
Three facts explain the powerful logic behind the partnership:
Heath disparities are acute in rural areas, as well as in underresourced communities of color. The Salinas Valley, the nation's leading grower of fresh market vegetables, is home to large communities of Spanish-speaking immigrant farmworkers.
In Monterey County, nearly 20 percent of the population is over age 60, consistent with national trends that predict ongoing growth in that segment of the population.
Today's severe nursing shortage will likely last until at least 2030. Rural health care institutions are especially pressed to maintain full nursing staff, much less nurses who are trained to work with diverse populations of older adults.
"We have to do better at meeting the needs of older adults and rural residents in this area," says Debra Kaczmar, PhD, dean of Academic Affairs for Nursing and Health Sciences at Hartnell. "Programs like FirstGenRN-REAP [Rural Eldercare Advancement Program] provide personal and professional content based on our students' needs and the needs of this community in which they live and work."
With support from a Health Resources and Services Administration grant, the FirstGenRN-REAP program provides scholarships, mentoring and training to 12 Hartnell students who are chosen as REAP scholars. Students will also receive weekly groceries.
In addition, UCSF School of Nursing professors Elizabeth Castillo, MPH, FNP-BC, and Helen Horvath, RN, ANP-BC, are providing training on elder care and rural health to Hartnell faculty, clinical instructors and affiliated registered nurses so that they, in turn, can mentor and train future nurses.
Nursing Those Who Nurtured Her
Nancy Oros Tinoco is one of the six scholars who make up REAP's first cohort. She and her family arrived in the Salinas Valley from Mexico when she was 6 years old. The oldest of four children raised in a family of farmworkers, Oros Tinoco spent her teenage summers working in the strawberry fields, before becoming the first member of her family to graduate from high school in 2015. She earned her AA degree from Hartnell in Spanish and psychology, eventually attained her license as a certified nursing assistant (CNA) and began work at Windsor Skyline Care Center, a long-term care facility in Salinas.
Oros Tinoco will complete the Hartnell nursing program in spring 2023 and aims to immediately transition to the BSN program at California State University, Monterey Bay (CSUMB). Ultimately, she hopes to become an adult-geriatric or women's health nurse practitioner.
Her experience working in the fields, roots in the area and commitment to its people should amplify her impact.
"Because I speak the language and know this community, some patients say they are more comfortable talking with me about a certain medication or procedure," she says. As for working with older adults, Oros Tinoco finds the work challenging, but says, "I really love it. I can see the difference we make in these people's daily lives."
Nancy Oros Tinco, left, stands with her mother, Ivitaly Tinoco, in a Salinas farm field. (Elisabeth Fall Photography)
From Uganda to the Front Lines of Senior Care
David Sejjombwe's journey began in Uganda, where he was born and raised and earned a bachelor's degree in agricultural business from Makere University. After a few years as a technical sales representative, he came to the United States with his wife and 6-month-old son in 2015 as part of this country's diversity visa program.
Intrigued with nursing since he'd spent time with a grandfather dying of cancer, Sejjombwe found work in Monterey County before enrolling in a CNA program and attending Hartnell to complete his prerequisites for the nursing program. He secured work at Windsor The Ridge Rehabilitation Center, a long-term care facility in Salinas, where he did night shifts before attending daytime classes.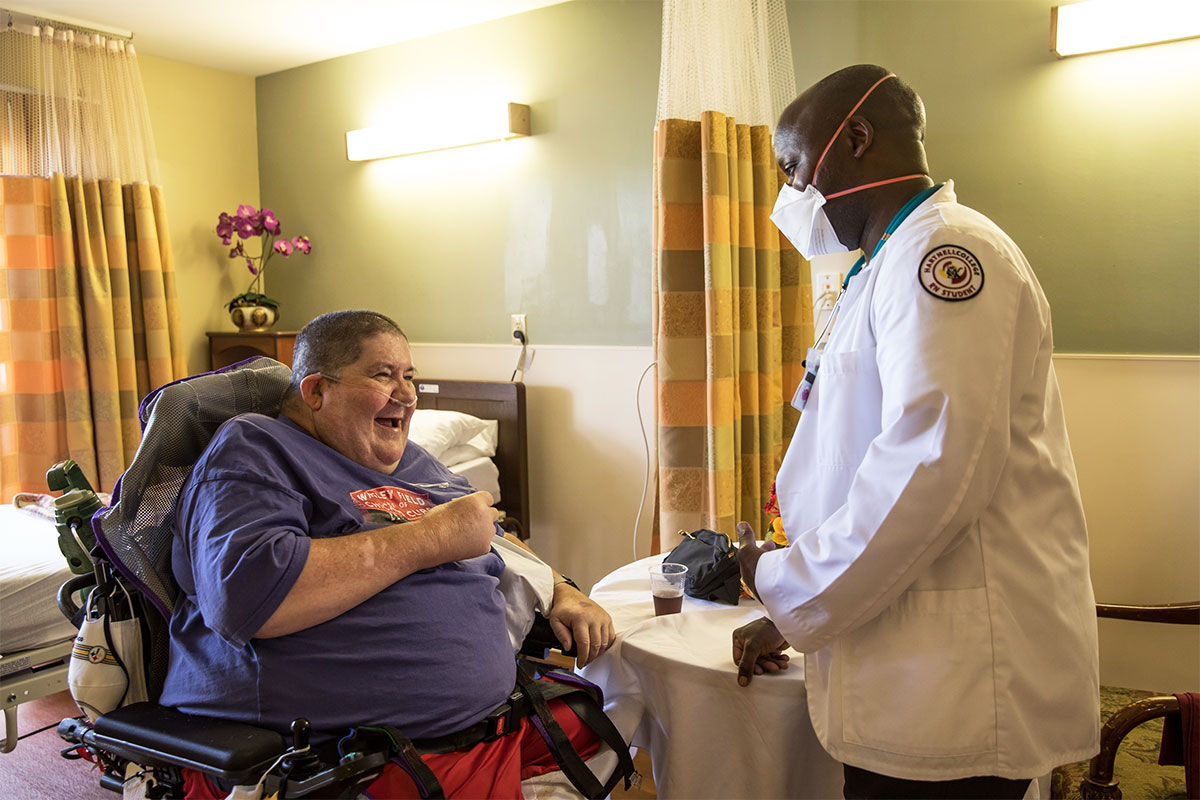 David Sejjombwe provides care to resident Gregory Hawkins at Windsor The Ridge Rehabilitation Center in Salinas. Sejjombwe is one of the scholars in the first cohort of UCSF-Hartnell's partnership to nurture first-gen nursing students. (Elisabeth Fall Photography)
"Working with an older population requires patience," says Sejjombwe. "There can be pain that might not go away. Many are frustrated because they can't do things they could do when they were younger. To work with them, you have to understand the spectrum of life and take things as they are."
Despite his passion for nursing the elderly, Sejjombwe's career path stalled when his wife fell ill and passed away. He took a year off, before returning to Hartnell where he applied and won a scholarship in the FirstGenRN-REAP program. He plans to finish at Hartnell and then pursue his BSN at CSUMB, while continuing his work at Windsor. He believes his life experiences make him well-suited to nursing older adults.
"As a CNA, I've learned to walk into a client's room and recognize changes," he says. "Now nursing school has enabled me to better connect the dots, to understand the science."
Just the Beginning
Oros Tinoco and Sejjombwe are just two of the first-gen students at Hartnell whose unique experiences and perspectives enable them to be attuned to the diverse needs of people in their community.
"Students such as Nancy and David have lived experiences that others have not," Wagner said. "They share their unique responsiveness and understanding with Hartnell College peers and faculty and their uniqueness is bound to benefit the individuals they care for as nurses."