Kortemme inducted into AIMBE College of Fellows; Desai elected president of AIMBE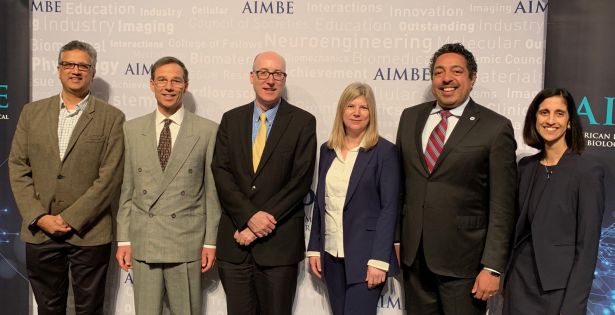 Credit: UCSF Precision Medicine
New and established AIMBE fellows (left to right): Shuvo Roy, PhD, Julius Guccione, PhD, Thomas Link, PhD, Tanja Kortemme, PhD, Atul Butte, PhD, and Tejal Desai, PhD.
Two UCSF School of Pharmacy faculty members, Tanja Kortemme, PhD, and Tejal Desai, PhD, were elected into prestigious roles at the American Institute for Medical and Biological Engineering (AIMBE) this month. Kortemme was inducted into the AIMBE College of Fellows, and Desai, who is both a current fellow and the chair of the College of Fellows, was named the president-elect of the AIMBE.
"The College of Fellows is comprised of the top two percent of medical and biological engineers," according to the AIMBE. The AIMBE is dedicated to providing "leadership and advocacy in medical and biological engineering for the benefit of society."
Kortemme and Desai are both faculty members in the Department of Bioengineering and Therapeutic Sciences (BTS), a joint department of the UCSF Schools of Pharmacy and Medicine.
Other new inductees to the College of Fellows from UCSF include Atul Butte, MD, PhD; Julius Guccione, Jr., PhD; and Thomas Link, MD, PhD. They join sixteen UCSF faculty members who are current AIMBE fellows, including BTS faculty member Shuvo Roy, PhD.